.
(The All-Time AFL team was picked in 1970 by the Pro Football Hall of Fame selectors from AFL cities.)
This is the first known instance that photos of the entire
American Football League (AFL) ALL - TIME TEAM
have been shown in one group.

OFFENSE

New York Titans
New York Jets
Wide Receiver

10-year AFL player
Billy Shaw


Los Angeles Chargers
San Diego Chargers
Offensive Tackle



10-year AFL player

10-year AFL player
George Blanda

San Diego Chargers


Kansas City Chiefs


Halfback

10-year AFL player


Houston Oilers
Oakland Raiders
Placekicker



10-year AFL player
DEFENSE
* Mays was a DT from 1961 through 1964, and a DE from 1965 through 1969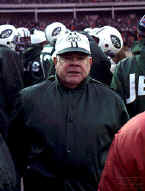 New York Jets
Only Head Coach
to win NFL, AFL, and
World Championships
---
American Football League (AFL)
All-Time Second Team
---
Q: What do Fred Arbanas, Ed Budde, Clem Daniels, Paul Lowe, Jerry Mays, Gerry Philbin, Houston Antwine, Tom Sestak,
Jim Tyrer, George Webster, Dave Grayson, George Saimes, and Jerrell Wilson have in common?
A: They are all members of the All-time All-AFL Team, the best players from the league that created modern professional football,
yet they are not members of the "pro football" hall of fame. Why not?
Call or write: Hall of Fame Director C. David Baker. Ask him "Why not?"
2121 George Halas Drive NW
Canton, Ohio 44708
(330) 456-8207
Ange
.
Home
Remember
the AFL
AFL
Hall of Fame List
AFL-NFL
Merger
Players who
Belong in the
Hall of Fame

©2003 American Football League Hall of Fame All rights reserved. Duplicate in any form you like, if you're an AFL fan.
You have the permission of the American Football League Hall of Fame. Please credit/link to: http://www.remembertheafl.com
Last revision: 22 January 2020 ~ Angelo F. Coniglio, nospam.RemembertheAFL@aol.com