.
The History of the AFL's Ten-Year Patch
During the entire 1969 Professional Football season, all NFL players wore a shoulder patch on their uniforms, reading "50 NFL". I petitioned the American Football League owners to have their players wear a patch commemorating the league's ten years, especially since it was the AFL's final year. The AFL owners generally either ignored or declined this suggestion. In Lamar Hunt's words, they felt that a patch would make the uniforms "too busy". However, Billy Sullivan of the Patriots did forward my letter to then-AFL President Milt Woodard, who wrote me: "As for your suggestion that AFL shoulder patches also be worn for the Super Bowl, I will investigate this with the firm which will provide our jerseys and ascertain if it can be done handily." (click the quote to see the full letter)

I enlisted the support of AFL players, notably Buffalo Bills Hall of Fame quarterback Jack Kemp, who also urged Pete Rozelle to support the idea. By season's end, in response to a letter from Kemp (a request no doubt reinforced by the fact that Mr. Hunt's team was in the final Super Bowl played between two LEAGUE champions) Mr. Hunt agreed to have the Chiefs wear a ten-year AFL patch in Super Bowl IV.

AFL Hall of Fame coach Hank Stram supported the idea and used the patch as a motivating factor for his team. Stram was later quoted as saying "You could not believe it when you saw the faces of the players. These were great men, and great pros, but they were like kids in a candy shop when they saw that patch." Years later, Chiefs linebacker Willie Lanier

remarked "It lit us up. We knew what it meant."
In the last game ever played by an American Football League team, with the AFL patch on their shoulders, the Chiefs went out and destroyed the Vikings 23 - 7. See the write-up for 1969 on the official Kansas City Chiefs page at http://www.kcchiefs.com/history/uniform/
~ Ange Coniglio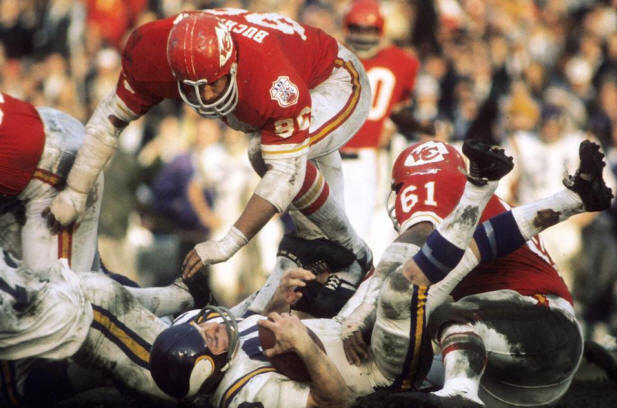 Buck Buchanan and Curley Culp give Bob Brown some in AFL love.
Photo courtesy Gary Lee Wilson
---
---
Coniglio
Home
Ange's
Page
Site
Index
Lamar Hunt
Jack Kemp
1965 topps cards
Players who
Belong in the
Hall of Fame
.
©2003 American Football League Hall of Fame All rights reserved. Duplicate in any form you like, if you're an AFL fan.
You have the permission of the American Football League Hall of Fame. Please credit/link to: http://www.remembertheafl.com
Last revision: 27 May 2017 ~ Angelo F. Coniglio, nospam.RemembertheAFL@aol.com