Snapshot of Notre Dame teammates

All photos courtesy of Angelo Coniglio

Rutkowski strategizing with Jack Kemp

A running back and defensive back at Notre Dame, where he was a teammate of a fellow Bill, Daryle Lamonica, Ed Rutkowski went un-drafted in 1963, but became a valuable member of the two-time AFL Champion Bills. From 1963 to 1968, he played defensive back, punt and kickoff return man, and backup quarterback. He was selected to play in the 1965 American Football League All-Star game.
Bills backfield coach John Mazur prepared Ed so that he had only three or four play options for any defensive formation. Rutkowski still has the special playbook that was prepared for those games. He estimates that he audibled 60% per cent of the time. In a memorable 1968 Thanksgiving day game against the powerhouse Raiders, with his old college chum Daryle Lamonica in opposing colors, Rutkowski and the Bills played a scrappy game and were threatening with the tying or go-ahead score when Rutkowski fumbled, sealing a 13 – 10 victory by the Raiders. That loss secured last place for the Bills, who used that position in the next draft to take O. J. Simpson. For years afterwards, Rutkowski would rib owner Ralph Wilson that but for him, the Bills would not have had O. J.
In his career with the Bills, he rushed for 250 yards, had 63 catches for 981 yards, returned 53 kickoffs for 1,270 yards, and returned 68 punts for an additional 514 yards, including a 73-yard punt return (a team record) for a touchdown against the Chiefs in 1966. In 1968, he was voted as the Bills' MVP on offense, as well as the team's overall Most Valuable Player.


At this writing, long-time Buffalo Bills fans again are watching their team's playoff chances slip away. Fans longingly remember the last (and only) major league championships achieved by a team representing Buffalo: the back-to- back American Football League titles won by the Buffalo Bills in 1964 and 1965. Last month I featured Bills All-Star cornerback Booker Edgerson. This month's spotlight is on jack-of-all-trades Ed Rutkowski, who was also a valuable member of those championship teams.
These columns were inspired by my meeting a number of those 1960's heroes at the Buffalo Bills Alumni Foundation's annual gala in September, celebrating the Fiftieth Anniversary of those championships.
Like Edgerson, Rutkowski remained in Western New York after his football career ended, and also like Booker, Ed has been very active in the Alumni Foundation, presently serving as its president.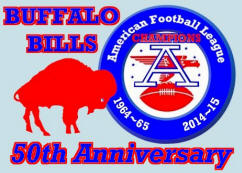 Rutkowski began as a defensive cornerback
, then progressed to running back; wide receiver; tight end for two games when star Ernie Warlick was out injured; and punt and kickoff returner. Rutkowski also played special teams on two-point conversions after touchdowns. He was the team's emergency quarterback, and in 1968 when Jack Kemp, Tom Flores, Dan Darragh, and Kay Stephenson were all hurt, he started several games at quarterback. This was despite the fact that he hadn't played the position in 8 years.